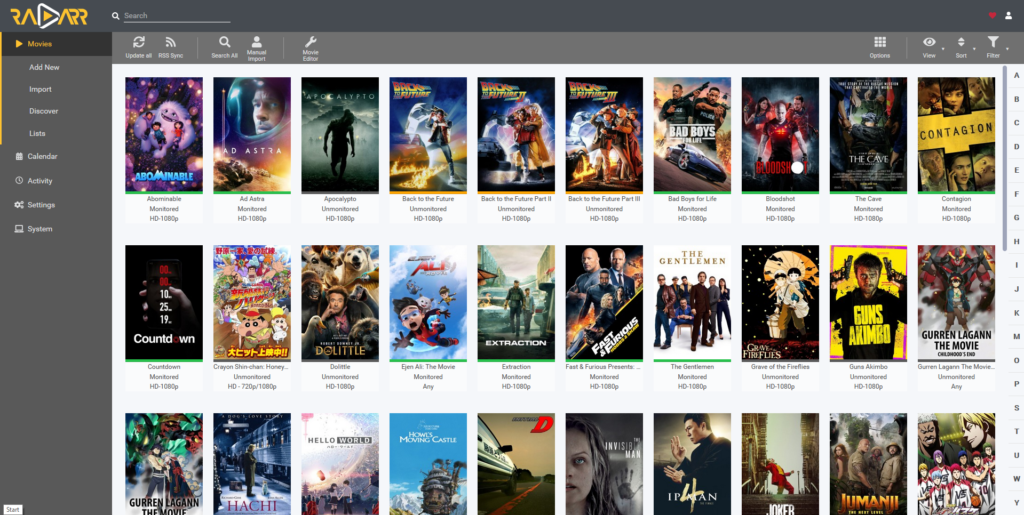 If you are here, you must already know what Radarr does, and you are now curious with the new UI changes which adapt Sonarr's UI.
I will be showing the steps to update your Radarr to version 3 based on my Ubuntu OS which should be working on other Linux variants too.
V3 is using aphrodite branches on github and this is what you will be using in Radarr too.
Backup your current configurations
Before proceeding, backup your current configurations!
By backing up your configurations, you can revert to old Radarr version if there is something wrong happened.
To do this, go to System >> Backup
Get one of the V3 build
First step is to fetch one of the aphrodite build to your Linux server. Below is the latest version when this article is being wrote.
Tips: If you can read JSON, you can grab latest version from here.
Don't worry if this version is a little bit old currently because you can update to the latest later.
Download it to somewhere on your server
$ cd /tmp
$ wget "https://dev.azure.com/Radarr/Radarr/_apis/build/builds/1062/artifacts?artifactName=Packages&fileId=AC6B4B450EFE76E3A5B85BF6AB5B5E7C8E0727704AA4FA4532C07006F936563D02&fileName=Radarr.aphrodite.3.0.0.2907.linux.tar.gz&api-version=5.1" --content-disposition
You will now have file Radarr.aphrodite.3.0.0.2907.linux.tar.gz in your /tmp folder
Extract the file you have downloaded
Then you need to extract the file
$ tar xvf Radarr.aphrodite.3.0.0.2907.linux.tar.gz
You will then have a folder named Radarr in /tmp. This folder will be the one which you will run Radarr from.
Don't worry about your data and configurations as they are saved in ~/.config and will be upgraded automatically when V3 is running.
And you made and a backup and downloaded to your PC right?! If not, go do it now!
Move Radarr folder to the path that you want
Since you need to run Radarr from this new Radarr folder, you need to move it to somewhere safe.
In my case, I renamed the old Radarr folder (which I can restore back if I want to revert), and move this new Radarr to the old place replacing the old Radarr.
So let say I have my old Radarr folder at ~/radarr/Radarr, I would do
$ cd ~/radarr/
$ mv Radarr Radarr_old
$ mv /tmp/Radarr .
I will now have 2 folders, Radarr (V3) and Radarr_old (V2) under ~/radarr/. This is basic stuff requiring basic Linux knowledge, so I hope I am not confusing you.
Restart your Radarr
The last step is to have your Radarr restarted os it will pick up the new V3 files. I am using systemd, so my command would just be
$ sudo systemctl restart radarr
Your V3 Radarr should running replacing the old version.
Check for updates
As I said earlier, you can update to the latest later. Simply go to System >> Updates and hit "Install Latest" if there is any newer update.
Have a fun!